Survivor Narratives: 2011
Kona, Hawai'i Damage from the 2011 Japan Tsunami
On March 10, 2011, at 7:56 p.m., a tsunami watch was issued for the state by the Pacific Tsunami Warning Center due to the magnitude 9.0 Tohoku earthquake in Japan. Approximately an hour and a half later the watch was upgraded to a warning. All people in coastal areas were told to evacuate no later than 2:00 a.m., one hour before the first wave was supposed to hit. While most communities escaped unscathed by the tsunami, parts of the west side of the Big Island were hit with waves 10 to 15 feet high.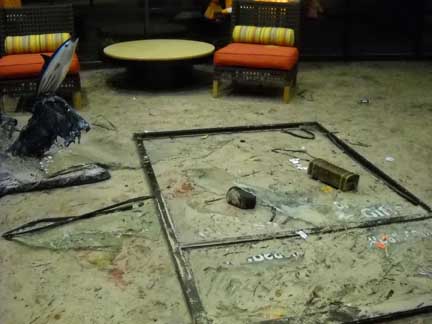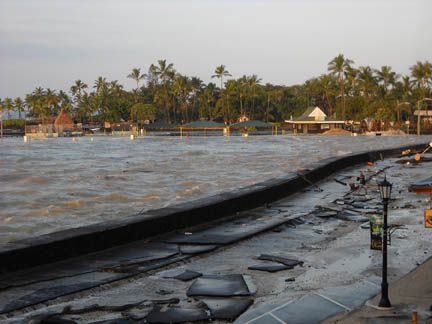 According to the office of the Governor, the total monetary damage from the tsunami was estimated at $18.3 million on the west side of the Big Island, most being sustained by businesses that suffered flooding, broken windows, inventory loss, and construction damage. Along Ali'i Drive, the thick concrete seawall was still intact, although the lava rock was stripped away in large sections. The sidewalk was rubble. While covered with sand and debris, Ali'i Drive itself was fundamentally intact.
Sand, palm fronts, soggy carpet, and severe water damage were evident on the first floor of the King Kamehameha Kona Beach Resort. Although no guest rooms were affected by the waves, the luau area remained closed for approximately 2 weeks. The superficial damage was quickly cleaned up and cleared by March 13.
Kona Village Resort suffered major damage from the 7-foot rushing waves. The tsunami destroyed at least 20 hale (hut), most of the common areas, bars and lobby.
Kealakekua Bay, just south of Captain Cook, received the most severe damage in the State. Seven homes, six cars and numerous possessions were destroyed along the shores of Manini Beach. One house was completely swept off its foundation and into the nearby bay. Only one rescue was made that day — for an unlucky resident donkey who found himself buried in tsunami debris. Volunteers began to clean up debris from the pristine Kealakekua Bay reef the next day, using kayaks to shuttle the rubbish to shore.
The destruction here in Hawai'i is a faint reminder of what we have been through in the past — we escaped with only the loss of material items. Fortunately we had no casualties and only one report of an injury anywhere across the islands. Our thoughts and prayers are still with Japan as they continue to recover from this disaster and rebuild one day at a time.

It is encouraging to note that people generally responded to the tsunami warning by following directions issued by authorities and got out of evacuation zones to higher ground. Boats moved out to sea to the minimum safe depth of 100 fathoms. This was an amazing sight to see. The picture on the right shows the view from St. Louis Heights on O'ahu. Commercial, recreational, and military vessel captains responded appropriately to the tsunami warning.