Planning a Field Trip or Want a Private Tour?
We Welcome Groups!

Groups of 15 or more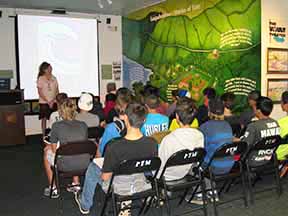 We welcome class/group visits to the Museum and tailor the visit to meet the outcomes expressed by the teacher or coordinator.
Minimum group size is 15 students or attendees
Maximum group size is 45 students or attendees
Suggested visit time: 1 hour

Initial 30-45 minute group presentation covers the science of tsunamis, historical information about Hilo, and personal accounts of survivors.
Participants then have approximately 15 minutes to browse or longer if requested.

For groups of less than 15 participants we will provide an introduction. This is followed by the participants touring the exhibits on their own.
For students in grades 3 and under we do not provide a sit down presentation due to the nature of the content.
Advance arrangements may be made by calling the Museum at 808-935-0926 or by emailing admin@tsunami.org
Group Rates

School Groups
(PreK-12th Grade)
Kama'āina
$ 2.00
Out of State
$ 5.00
Adult Groups
General
$ 10.00
Senior
$ 7.00
Kama'āina
$ 7.00
For every 10 students in a scheduled group visit, one adult may come in free. Adults accompanying the group in excess of that number pay General, Kama'āina, or Senior admission.
For more information call 808-935-0926.