Disaster Preparedness and Response:
Tsunami Observer Program

The Tsunami Observer Program is funded by NOAA and sponsored by Hawai'i State Civil Defense. It was set up to record all important data associated with a tsunami event, including footage of the waves inundating the coastline, as well as wave runup heights in a post-tsunami field survey. Volunteer observers are located on each island, and they are provided with training and equipment. The Pacific Tsunami Museum (PTM) was awarded the contract to manage the program from 2006 to 2010. From June 2010 forward, it was contracted to Jacqueline Miller on O'ahu, who acted as program manager. The most recent periodic training was hosted by PTM on April 6, 2013.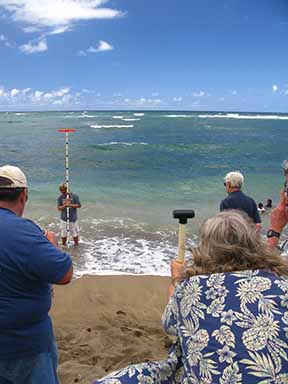 When a tsunami WATCH is issued, all tsunami observers are alerted via a phone tree system. They proceed to set up recording equipment at safe locations to monitor the waves as they come ashore. Following a significant tsunami event, tsunami observers are deployed into the field to carry out a comprehensive post-tsunami field survey to record an array of data including runups, building damage and eyewitness accounts. The program consists of approximately 50 volunteer tsunami observers, covering the islands of Kaua'i, Lana'i, Maui, O'ahu and Hawai'i. There are two technical directors, George Curtis and Daniel Walker.