Survivor Narratives: 1946
A 1946 Escape
Donald Ikeda's experience when he was five years old
Donald Ikeda was five years old at the time the 1946 tsunami waves struck Hilo. His family lived in a two-story building right on the corner of Kamehameha Avenue and Bishop Street fronting Hilo Bay. Behind their building along Bishop Street stretched a Nagaya, a long house with eleven apartments and communal bathroom. Donald says the Ikeda entrepreneurial nature goes back to his grandfather, who eventually owned the Ikeda Shoyu Factory.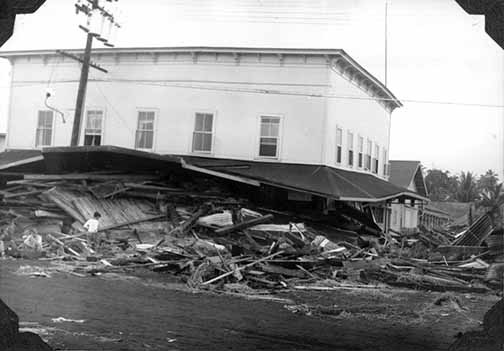 On April 1, 1946, the Ikeda family was having breakfast when five year old Donald saw water outside the door and reported it to his mother, with the thought that a pipe must have broken. When they saw a fish swim by, they knew better. The family immediately made it to the roof of their two story building. From that vantage point, Donald saw the Hawai'i Planing Mill wash across the street, right up to their building. He saw people on roof tops no more than 10-15 feet away calling for help, and then saw them swept away by the water. Miraculously, the Ikeda building stayed intact, but the buildings to the right were wiped out. From their second floor windows the Ikedas climbed out onto the roof of the Nagaya apartments. 
Luckily they had the expanse of the eleven unit apartment building on which they ran until scrambling down on Punahoa Street, and from there they kept running up Piopio Street. In all this action, the family was separated and five year old Donald ended his run for safety at the Hilo Meishoin Church on Piopio Street. He remembers sitting there all day long with other kids from the neighborhood… just waiting. It was not until evening that he was located and the family reunited. The Ikeda buildings survived the 1946 tsunami; Mrs. Ikeda offered to take less fortunate neighbors in until they had a place to live. 
After the 1946 tsunami, the Ikedas had their own beach right across the street from their home. The railroad was destroyed and without it they had the beach to themselves… the whole beautiful expanse of black sand beach that extended all the way from the lighthouse to the base of the Wailuku River to the Wailoa River opening. There was an abundance of fish and crab, but they only took what they could use. 
Donald's memories of his childhood were of fun and a sense of innocence. It is an important part of his family's history and the place that set forth the values for his life.